Links to a few of the clients we are proud to represent:
High Technology Clients
The Support Group, Inc. of Natick, Massachusetts, New York City, San Francisco, and Los Angeles. This nationwide corporation is at the top of the list for FileMaker Pro® database development work and training.

Nucleus Research, Inc. of Boston, Massachusetts. Specializes in unbiased, independent ROI research for key technology investments. Willing to take the heat for truthful analysis.

Blue Edge Data Solutions, Inc. of Hopkinton, Massachusetts. Delivers expert solutions for your Java, JSP, and other ASP-type needs.

www.GammaRayDigital.com of Boston, Massachusetts. Provides professional, high quality video encoding, DVD authoring, and film restoration services including Blu-Ray Disc authoring, DVD authoring, HD & SD MPEG-2/H.264/WMV/FLV Encoding, DVD Replication & DVD-R Duplication, and Digital Film Restoration. Provides reasonable, cost-effective digital video solutions for many different types of clients.

www.MDConnectInc.com of Wellesley, Massachusetts. A specialized marketing company providing proven but state-of-the-art web solutions exclusively to physicians, allowing them to enjoy the benefits of the modern way patients find particular medical services, with verifiable tracking of results, at costs substantially less than traditional print media.

We have also represented business owners and estates of owners in the sale of business interests, including addition or departure of partners and recovery of amounts owed under contract, employment matters, and day-to-day counsel concerning contracts with vendors, customers, and leases.
Hospitality
Prior to its sale and subsequent demolition, we represented The Wellesley Inn, Inc. of Wellesley, Massachusetts, which was a delightful, New England inn, located near Wellesley College and Babson Institute, with a sunny patio for warm weather dining and socializing after work, with approximately eighty rooms and three restaurants.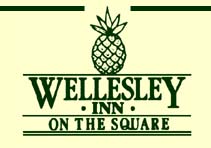 We have also represented restaurant owners in purchase and sale transactions and other matters.
Professionals
We represent medical and other professionals for their business and estate planning needs, including leasing and financing issues, contracts with insurers and others, and related matters.
Institutions, Trusts, Estates
We serve as fiduciary (administrator with will annexed, trustee, executor or co-executor) for estates and trusts of varying sizes, and also serve as legal counsel in the probate court for the institutional (including private clients groups of large banks) and private trustees of ongoing trusts and estates.